3D Love Parrots Mandala Art | CNUS005352
*This is a made-to-order product. Kindly refer to our refund & cancellation policy for more information.
The 3D Love Parrots Mandala Art is a stunning and unique piece of wall art that adds enchantment and spiritualism to any room.


Regular price
From
$209.80 CAD
Sale price
From
$209.80 CAD
Regular price
Unit price
per
Sale
Sold out
Description
The 3D Love Parrots Mandala Art is a striking wall decoration that features intricate and detailed multilayer design, perfect for adding a touch of beauty to any space.
With its twelve layers of laser-cut precision and careful dyeing, the art piece is a beautiful representation of the universe in its perfect form.
This mandala art can be used as a meditation aid to help the user visualize their perfect self, promoting spiritual growth and healing through its symbols.
It is versatile and can be hung in any room, making it perfect for home, business, or yoga studios.
It is a wonderful present for any occasion, including housewarming parties, birthdays, or any other special event.
The 3D Love Parrots Mandala Art is crafted with the highest-quality laser-safe materials, ensuring a beautiful and durable work of art that will last for years.
Each piece is carefully packed in soft paper and bubble wrap to ensure that it arrives at its destination in perfect condition.
It comes in four different sizes, and installation is hassle-free, with all necessary hardware included.
The 3D Love Parrots Mandala Art is a beautiful, unique, and powerful work of art that is sure to impress and delight anyone who sees it.

General precautionary measures: 

Avoid direct sunlight and moisture to prevent fading, discoloration, warping, rotting or mold growth.
Handle with care and clean regularly with a soft, dry microfiber cloth to prevent scratches or other damage caused by dust accumulation.
Warranty
At CrazyNeon, we take pride in the quality of our products, and we stand behind them. We are offering a 6 month warranty on this product from the date of delivery. During this period, we will repair or replace the product that is found to be defective due to faulty materials or workmanship, free of charge.
Please note that these 3D Wall Art products are for Strictly for indoor use. 
Exclusions from 3D Wall Art signs warranty:
Damage caused by improper installation or handling
Normal wear and tear
Modifications or alterations made to the product (additionally, any modifications made to the product by the customer, such as drilling holes or adding additional fixtures, will void the warranty.)
Acts of nature or other external factors beyond our control
Please note that these situations are not covered by our warranty policy. 
In addition to the points mentioned above, please note that the following are considered inherent characteristics of our products and are not covered under warranty:
Variations: Due to the custom-made nature of our products, slight variations in color or size may occur.
Marginal discolorations: Some differences in color may result from the computer screen or printer calibration, or prolonged exposure to sunlight/UV rays.
Please keep these points in mind when considering our products.
The Buyer acknowledges that these variations and discolorations are not a fault of the Products and accepts the potential of such occurrence. 
To make a warranty claim, please contact our customer service team at hello@crazyneon.com with your order number and a detailed description of the issue. We may request additional information or photos to assist in our assessment of the problem.
If we determine that the product is covered under warranty, we will either provide online assistance to repair it or will replace it as quickly as possible. 
Please note that our warranty policy is subject to change without notice. If you have any questions or concerns regarding our warranty, please do not hesitate to contact us.
Refund & Cancellation
Order Cancellations:
All our products (including readily available designs) are made-to-order, and as such, we are unable to provide refunds once the production process is initiated. However, customers have the option to cancel their purchase within four hours of placing the order. After this four-hour window, the order is considered final and cannot be canceled, and no refund will be provided. 
To be eligible for cancellation and a refund, please send an email to hello@crazyneon.com with the subject line "Cancel Order <Order Number>" within four hours of placing your order.
Please note that it may take up to 8-10 business days for the refund to be processed and reflected in your account.
Replacement/Refunds:
CrazyNeon assures its customers, the products we offer are free from any manufacturing defect. Unfortunately, in the emergence of such a case, we provide hassle-free assistance to all the customers. Kindly note, We offer Replacements for products that are damaged during transit and will make every effort to resolve the issue after careful inspection of the delivered products.  The final resolution is decided on a case-by-case basis depending on the source of the fault and is at the sole discretion of CrazyNeon. 
To start a replacement request contact us at hello@crazyneon.com
Here are some common damages and issues that our customers may encounter.
Upon receiving your order, please inspect the item for any defects or damages, or if you have received the wrong item, contact us immediately. We require you to record a video and take pictures while unboxing the product as proof for quick and undisputed claims. We only provide replacements if the proofs provided are validated by our team. Please note that we do not offer any refunds for manufacturing defects or damaged or lost products. We guarantee impartial assistance and customer support, and we may offer a brand-new replacement for complete customer satisfaction.
By agreeing to our policy, you acknowledge that CrazyNeon (Webcom ventures LLC) has sole discretion in determining whether a product's failure or breakage is due to a manufacturing defect. You also agree to provide us with full and accurate information regarding the circumstances of the failure or breakage, including details of product use and conditions, as well as any other relevant information that can help us make an informed determination of the cause."
Damaged during Transit 
We recommend opening your parcel upon delivery and request you take an unboxing video for future claims. In the improbable event that your sign has been damaged in transit, we will ensure that a resolution is provided. If the package received is damaged, punctured, or bent from any side or corner it is advisable to take clear pictures before opening the box.  Any Damage/ Issue (Including Missing, stolen, Lost product) must be reported within 7 days of delivery* of your sign to be eligible for a replacement. 
*Note: The delivery date is the courier delivery date which can be found by following the prompts in your tracking email.
If you believe your item has been damaged in transit and you are within the 7-day claim period please send an email to hello@crazyneon.com with all of the following:
A clear photo of the damage to the sign,
An unboxing video 
Clear photos of the box & any damage to the outer box (From multiple directions including all the sides), 
and a clear photo of the shipping label on the box.
Failure to comply with this request and timeframe will void CrazyNeon's obligations.
In case the sign is declared to be faulty, lost, or damaged during shipping, CrazyNeon offers replacement at absolutely no cost. Any requests for a different product/design or a change in the shipping address may incur extra charges based on the requirements of the customer.
Shipping
At CrazyNeon, we understand how important it is for our customers to receive their product in a timely and safe manner. We offer two shipping options for you to choose from at checkout: Standard Shipping and Priority Express Shipping.
Standard Shipping: Our Standard Shipping option typically delivers your order within 11-14 business days from the date of your order. 
Priority Express Shipping: For customers who need their order delivered quickly, we offer Priority Express Shipping. This option typically delivers your order within 6-9 business days from the date of your order. 
Please note that this delivery timeline is an estimate and can vary based on your location and other factors. We may charge additional shipping fees below a certain order value or in case of any unique requirement. 
It is important to note, Once the shipment process is initiated and the package is picked up as per the given time limit, any subsequent delay within the process of shipping is beyond our control. In the occurrence of any such event, we can not adhere to the given timeline, but a Customer support expert will be appointed to provide thorough and undivided assistance for the same.
Exceptions: 
The above-mentioned timelines do not apply to bulk orders (More than 2 pieces), since additional production time is required in such cases. 
There might be a slight delay during the holiday season, or any contingent event or unforeseen climatic disruptions, Transit time increases by the shipping company.
If your order is misplaced or lost or stolen, kindly do not depend on the above-stated timeline as further time is required, to trace, locate and deliver the sign at the desired location. 
Can I modify the shipping address after the order is placed?
Until the Wooden wall hanging signs are shipped, you can request a change in the shipping address. Hence, it is advisable to check and closely examine the details of your order before requesting any alteration, this may cause complications in the quick and safe delivery of the product. In addition, depending on the new shipping address, you may also incur extra shipping fees.
Once the shipping label is generated and your order has been picked up, our accountability to modify any such information will be restricted. If a customer deliberately requests a change (a delayed date for delivery or a change in a given location) after the shipment of the product, CrazyNeon bears no responsibility for any consequences that may occur. 
Lost, Stollen & Missing Signs/ Package
At CrazyNeon, we prioritize secure delivery of our products to our customers. To ensure this, we use a reputable service provider that requires a signature upon delivery. Please be aware that if you choose to opt out of the signature on the delivery requirement, CrazyNeon will take no responsibility for lost, missing, or stolen parcels that have been marked as 'delivered' by the shipping service. Hence it is recommended to closely follow the procedure of delivery and provide a valid signature.  
In case the package is declared to be missing or damaged CrazyNeon offers replacement at absolutely no cost. Any requests for a modified design or a change in the shipping address may incur extra charges based on the requirements of the customer.
View full details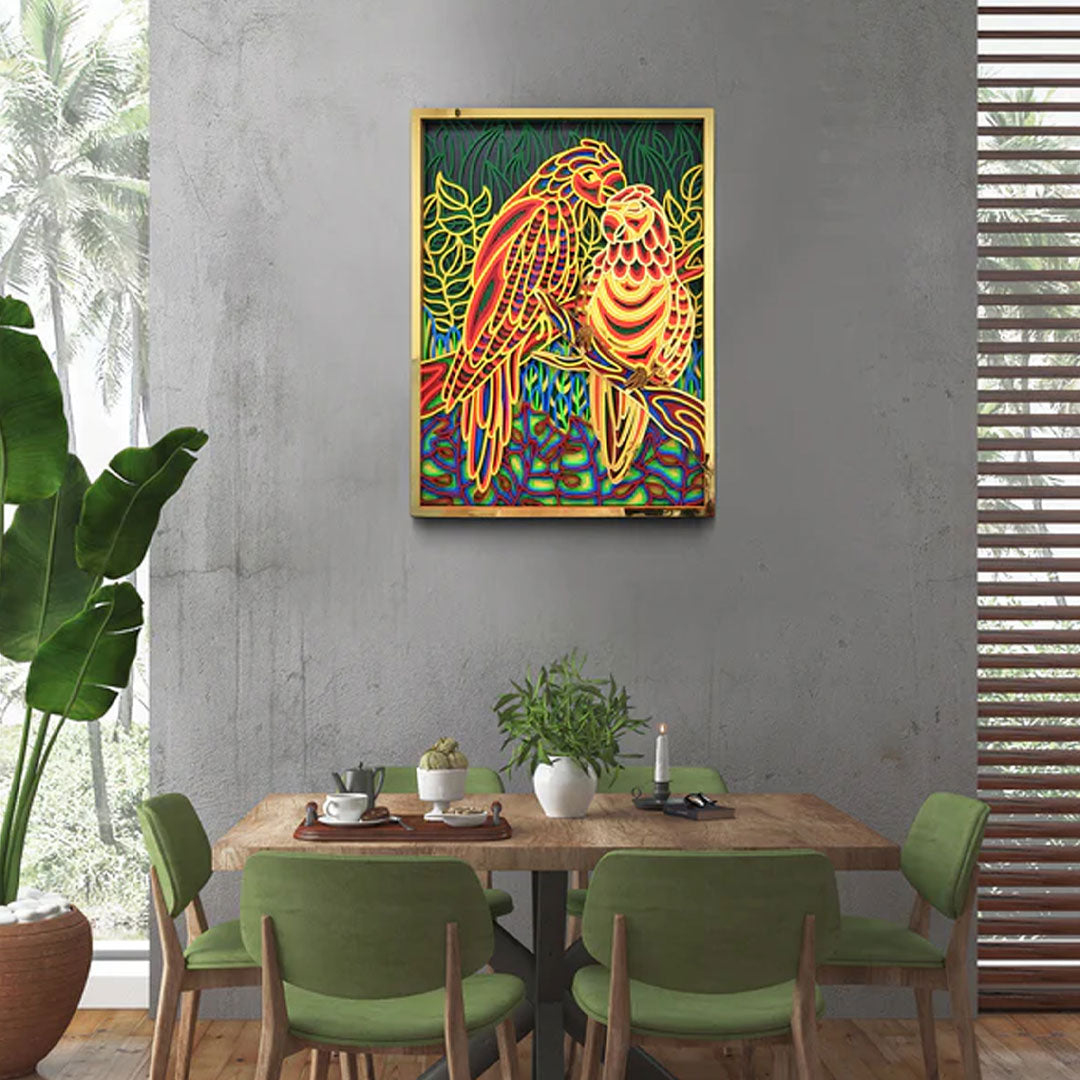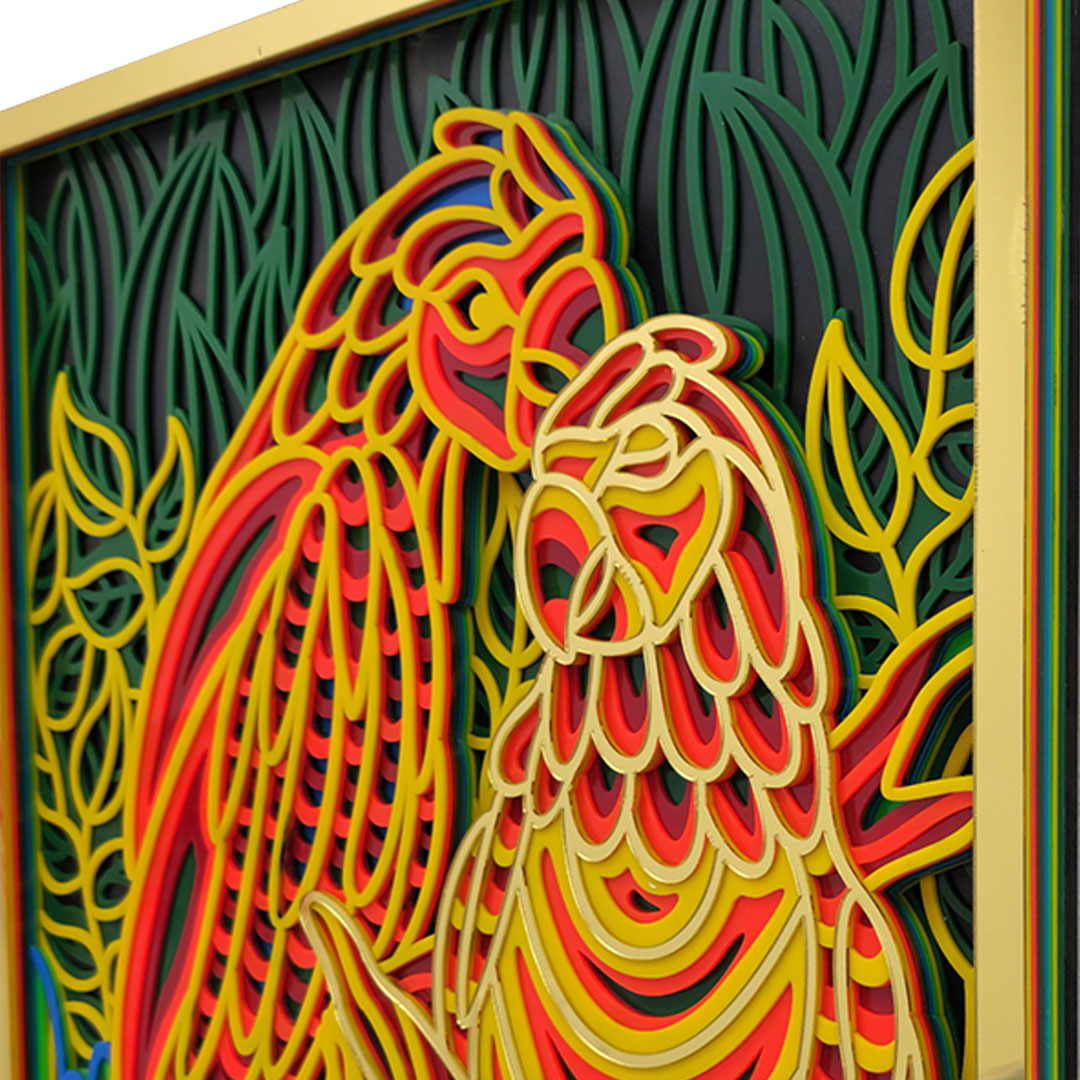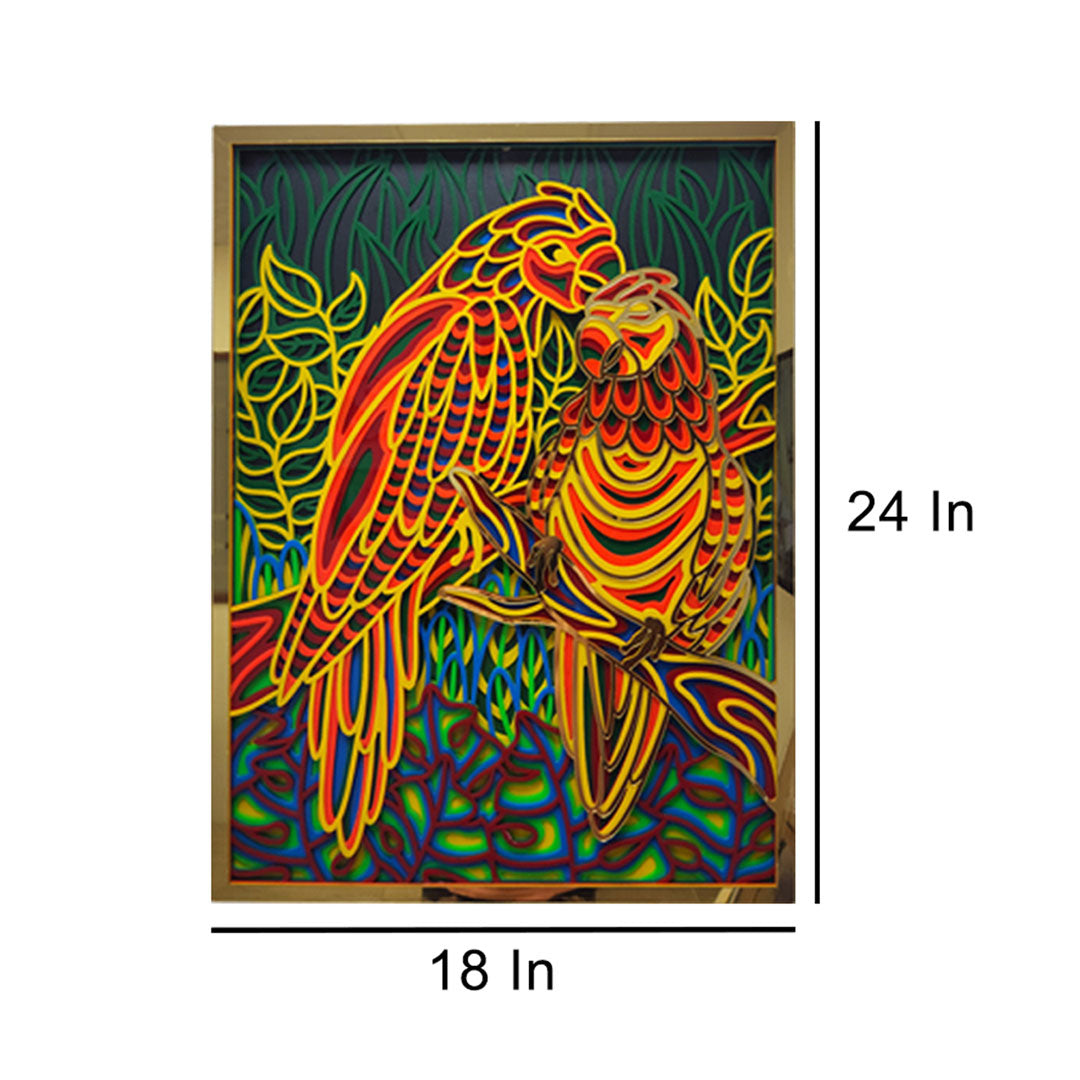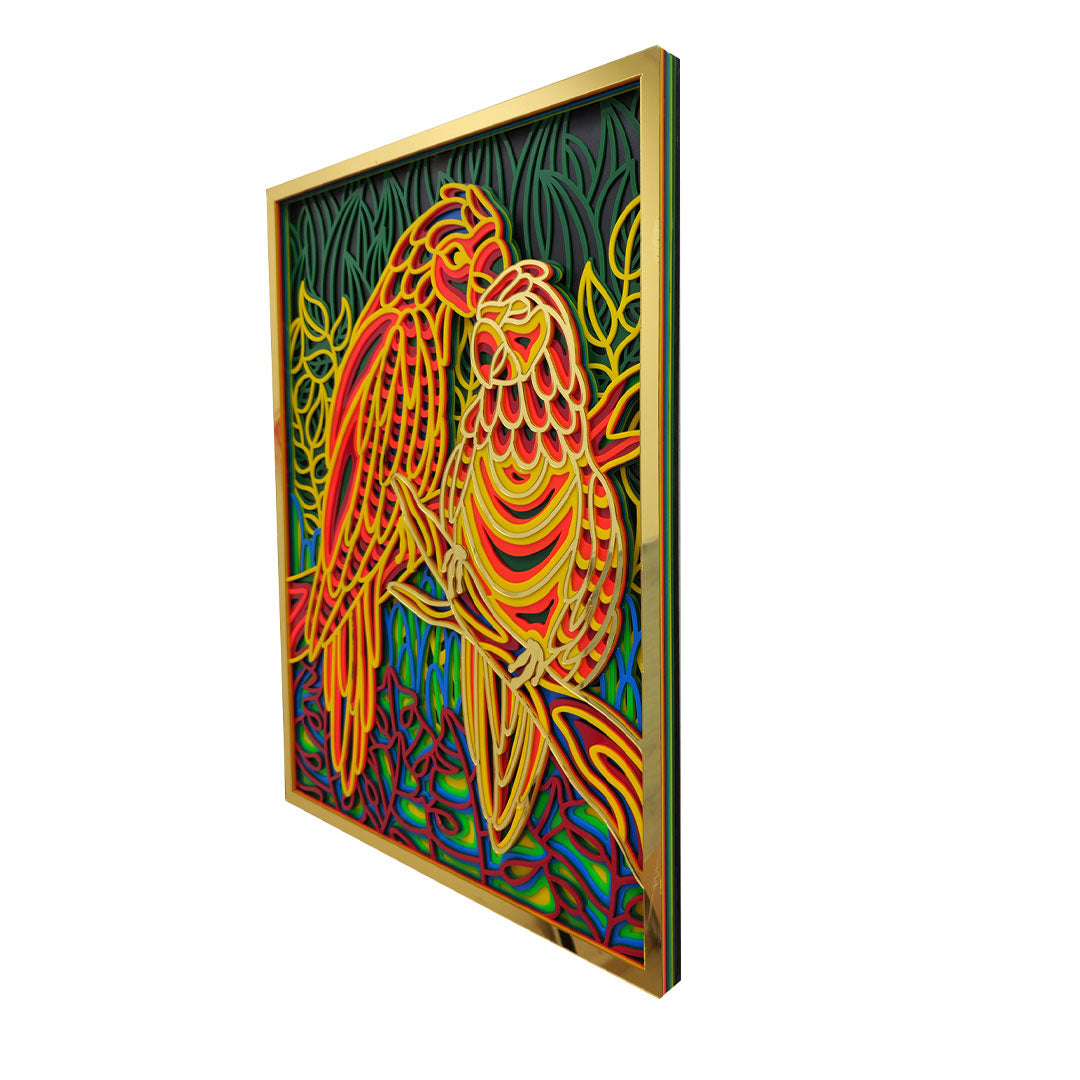 FAQs
Frequently Asked Questions
3D wall art is a type of wall decoration that features designs with three-dimensional elements that protrude from the surface. These can be made from a variety of materials, such as wood, acrylic, or PVC, and are designed to be hung on the wall to add visual interest and depth to a space.
What are the benefits of using 3D wall art?
There are several benefits to using 3D wall art as part of your decor. Firstly, they add a unique and visually appealing element to any room. Secondly, the three-dimensional design creates a sense of dimension, making your space look more exciting and dynamic. Additionally, if these Wall Art Decorative Items are precisely chosen, they can fit your specific style or theme, allowing you to create a look that reflects your personality and tastes.
How do I install 3D wall art?
The installation method for your 3D wall art sign will depend on the size and material of the piece. Some may come with hooks or screws that need to be mounted on the wall, while others may require adhesive strips or brackets. You may also want to consider the weight of the sign and use the appropriate hardware to prevent it from falling.
How do I clean my 3D wall art?
To clean your 3D wall art, use a soft cloth/microfiber or sponge. Avoid using abrasive cleaners or brushes, as they can scratch the surface or damage the three-dimensional elements of the sign. If the sign is made of wood, you may want to use a wood cleaner or polish to keep it looking its best.
What is 3D mandala wall art?
Mandala wall art refers to a type of decorative art that features intricate geometric patterns arranged in a circular or square shape. Many people believe that mandala wall art can have a meditative and calming effect, and it is often used to create a peaceful atmosphere in homes, offices, and other spaces. Mandalas are also frequently used in therapy as a tool for mindfulness and stress reduction.